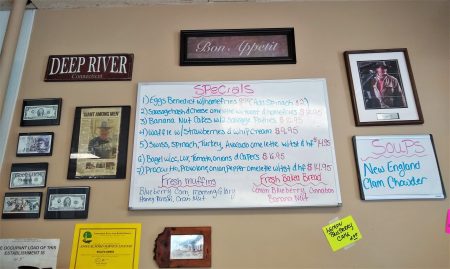 For over 40 years, the Lomardo family has been a fixture in the food services industry.
Beginning with a fleet of food trucks in the 1980's, George Lombardo quickly rose to local notoriety by preparing his own unique style of food for daily delivery.
Adding vending machines in the '90's, the business rounded out and was quickly sold to a larger concern.
After enjoying some much needed time off, George found he deeply missed the social aspects and creativity that comes with the food and hospitality industries, and began a search for his next adventure. Finding what he refers to as "The perfect little spot in a perfect little town", George snapped up the restaurant formerly known as "The Short Stop" in Deep River. The once "happening" spot had suffered a series of misses, and George had a vision.
After a total rehab in 2011, he quickly moved in and turned it into the popular neighborhood spot that we've come to know and love as Hally Jo's.
Truly a family endeavor, other family members have joined in on the party, and the spot has become a mainstay and local hub in the town of Deep River.
– To all our friends, patrons, guests, and family, thank you from the bottom of my heart for helping make us the success we are today. – G.L.